Become a nature trail expert with a plant identifier app on your smartphone! With just a simple and quick photo of a tree leaf, flower, plant, berry, or the like, you can get what you're looking at instantly identified. Plus, you'll get in-depth knowledge of that particular specimen as well. Impress your friends and family and ditch the nature trail book sticking out of your pocket and choose one of the plant identifier apps we've collected for you below. The plant and flower experts at Kalamazoo's best florist, VanderSalm's Flowershop, have already done the research for you and listed the top-rated plant and flower apps for you. Enjoy!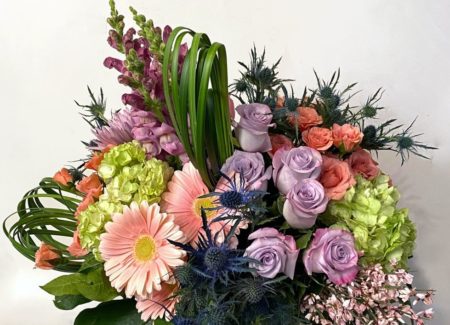 Best Plant Identification Apps to Improve Your Green Thumb

PlantNet
PlantNet identifies plants or flowers once from photos you've submitted or already exist on your smartphone. Identifying a vast range of flowering plants, trees, grasses, ferns, and more, this app uses visual recognition software to analyze photos from your phone and provide matches. This is a free app that "learns" from every new photo uploaded. Plus, all of the images of plants are collected and analyzed by experts so they can expand upon the existing knowledge of plant biodiversity and preservation.
PictureThis
PictureThis uses artificial intelligence to identify plants and flowers. It is well-reviewed for its accuracy and ease of use. Easily snap a photo with your smartphone and within seconds the app determines the type of plant or flower. The creators of this app claim 99% accuracy and over 27 million plants so far identified. PictureThis is a fee-based subscription service but does offer a 7-day free trial.
What's That Flower?
Instead of relying on photo uploads, this app displays matches based on your answers to a few questions like color, habitat, number of petals, etc. What's That Flower is a good option for determining what a plant or flower is that you don't have a photo of, but perhaps just a memory of. This app has more than 600 flowers in its database and is free to use with an optional paid ad-free version.
LeafSnap
LeafSnap is a free mobile app that identifies a tree species from photos of its leaves. It's well-reviewed and features beautiful, high-resolution images of leaves, fruit, flowers, seeds, bark, and more. Currently, LeafSnap incorporates trees of the Northeastern U.S. and Canada, but will soon include trees of the entire continental U.S.
These Plant ID Apps Are Pretty Cool, Too
FlowerChecker – Rather than computer algorithms, a team of botanists review your photo and send back an identification.
Plantix – Popular with farmers and gardeners, this app IDs plants, plant diseases, and various other plant problems.
iNaturalist – For the nature enthusiast who wants more than just plants and flowers identified, this app can also ID insects, animals, and butterflies.
With too many to list here, there are free wildflower apps for almost every region of North America. With all these cool apps in our pocket, venturing out into nature has never been so fun and educational.